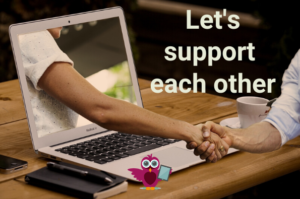 When setting your business goals at the beginning of the year I'm guessing that 'dealing with a global pandemic' didn't hit your list? While the current situation is far from ideal and one that we will likely be dealing with for some time, it is important to continue working on your business.
Despite how it may currently feel, lockdown and restrictions won't last forever. We need to prioritise supporting each other during these strange times too. If we work together, we as a business community can lift each other up and start to rebuild our economy.
Capitalise on your VA time
For many Virtual Assistants it's business as usual, as far as it can be. Home working is the norm for us. We are well placed to continue supporting our regular clients as well as helping new clients who suddenly find themselves in need of remote support.
In addition to the usual tasks that your VA completes, here are some tasks specific to the current situation that could be beneficial:
Putting together a cash flow plan to show you exactly where your business is – you can then begin to plan ahead for your business
Working on a marketing plan or project plan so that you can hit the ground running when the restrictions are lifted
Catching up on admin and the other tasks that tend to get left for a rainy day. Your accounts are a good example and you could get last year's tax return submitted in record time!
Any Virtual Assistant will of course be flexible with regards work right now to ensure that the tasks he or she completes are most beneficial to you.
Supporting those who support your business
Working with a good Virtual Assistant can impact your business in so many positive ways. You are likely to find him or her critical to your business during normal times, often working to tight deadlines and going above and beyond. I'm asking you to consider the importance of supporting your VA and other freelancers during this time. At the end of the day, it is you and your business that will reap the benefits.
Speaking for myself as a VA, I have been fortunate that many of my clients are already of this mindset. They understand that by continuing to use my services in the way that best suits them, they will benefit in the short term and the long term.
How do you want your business to look when we emerge from the pandemic?
It's wise to spend some time considering this now. If your work has quietened and cash flow is an immediate issue, you may be finding it difficult to sustain the volume of work for your VA. Or you may not be able to provide any work at all. If this is the case, consider if you are able to, making a retainer payment to your VA. Agree on an amount you can manage over the next few months so that when business picks up again, your VA has retained the capacity to carry out your work. Your VA is like you and has a business to run.
As part of the wider business community, I am also being proactive in supporting other small businesses, freelancers and others who have been or will likely be affected by the Covid-19 crisis. Only by us all supporting each other will we come through this stronger and ready to forge ahead and grow.
If there are tasks your VA can't complete or your usual staff are unavailable, ask for freelancer recommendations to bridge the gap. I would be happy to offer recommendations which can support your business needs and also offer income (even if short term) to others.
Thinking about working with a VA?
If you haven't worked with a VA before but think that the flexibility and remote office support could be what you need to get your business through the next few months and beyond, take a look at my blogs on What is a Virtual Assistant and Starship Captains need Virtual Assistance.
I would be happy to help you look at where you and your business are currently, and help you plot a way forward. I also have a wealth of experience to share when it comes to home working and implementing new systems to help teams operate remotely. Please contact me at jen@businessowl.co.uk or on 07970 955535.