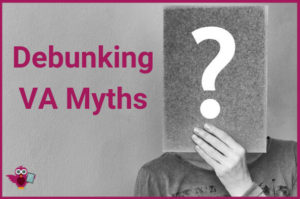 Do you have a fuzzy perception of what a Virtual Assistant does? Have you heard wild rumours or contradictory information about the pros and cons of working with a professional VA? Debunking VA myths is something I find myself doing regularly.
Sometimes people simply don't know what a VA is or what a Virtual Assistant does. I meet others who have "heard" about working with a VA from someone who doesn't understand it themselves. This is how myths and assumptions grow. Worry not! I am here with my VA super-cape on and am primed and ready to debunk the 5 most common VA myths. After all, how will you know whether using a VA would be beneficial to you if you don't have a clear picture of what they do and how they work?
Myth 1 – A VA is an Employee
Incorrect! A Virtual Assistant is self-employed. A VA may be an independent contractor, sub-contractor, a freelancer, a business owner or a sole trader, but a Virtual Assistant will not be your employee. This means that you arrange work, payment and contracts between you and you don't have to worry about tax, National Insurance, pension contributions or anything like that. A VA can work with you regularly or just as and when required.
Myth 2 – All Virtual Assistants are the same
Wrong again. Generally speaking, a VA offers a range of administrative and organisation-led tasks. I offer admin and project support and have a very strong background and qualifications in law so offer legal-related VA services when required. I help clients with their WordPress websites as well as offering several other services.
As a professional VA, I can help with any tasks that you need to outsource in order to streamline your business. Other VAs might offer different niche services or a smaller number of services. The beauty of working with a Virtual Assistant is that you can choose someone with the skills and experience you need for the work you have in mind. You can even work with more than one VA if it suits your business needs.
Myth 3 – A VA is the same as a PA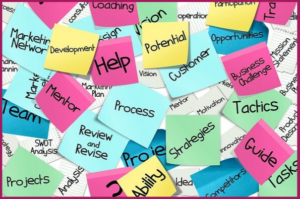 I hear "A Virtual Assistant is the same as a Personal Assistant" a lot and understand where this perception comes from. However a Virtual Assistant is not the online version of a Personal Assistant. VAs support businesses in a myriad of different ways. Yes, we can take on basic admin tasks and secretarial duties such as taking calls and e-mail and diary management. But there are numerous other tasks that a VA will undertake, from content creation to social media work, bookkeeping, marketing strategy, web design, customer service and more. Generally speaking, a VA will offer a significantly higher number of professional business support services drawing on past experiences which extend beyond those of PA.
Myth 4 – By the time I've shown a VA what to do I could have done it myself!
Although there needs to be an initial investment in time to get a VA up to speed with the specifics of your particular business, experienced VAs are used to switching between and working with a variety of different clients and using a range of different systems. A good VA will get up to speed quickly, meaning that you are rewarded with more time to focus on the tasks that only you can do in your business.
Myth 5 – A VA is more expensive than an Employee
If this were true, nobody would be able to build and maintain a VA business. One of the many benefits of working with a Virtual Assistant is that they are more affordable than an employee. A VA doesn't need a set number of hours or a long contract and only takes on the tasks you need to outsource. For example, I have some regular clients for who I work for just an hour or two a week, for others I give a greater time commitment. I also undertake ad hoc pieces of work as and when required.
You don't have to pay me holiday or sick pay or send me on training courses. What you do need to do is pay the pre-agreed hourly rate/amount for the work that I have done, on time. All VA clients have a Service Agreement with agreed terms and conditions so that both parties know what is expected of them and how it will all work. There are no hidden costs. As you can see a VA is not more expensive than an employee but offers significantly greater flexibility.
Want to know more about working with me?
This piece may have been about debunking VA myths however it doesn't offer a personalised view of what a VA can do for your individual business. Feel free to get in touch for an informal conversation about how I can help free up time so that you can concentrate on growing your business. Please contact me at jen@businessowl.co.uk or on 07970 955535.